By BAAL On 11月 15th, 2011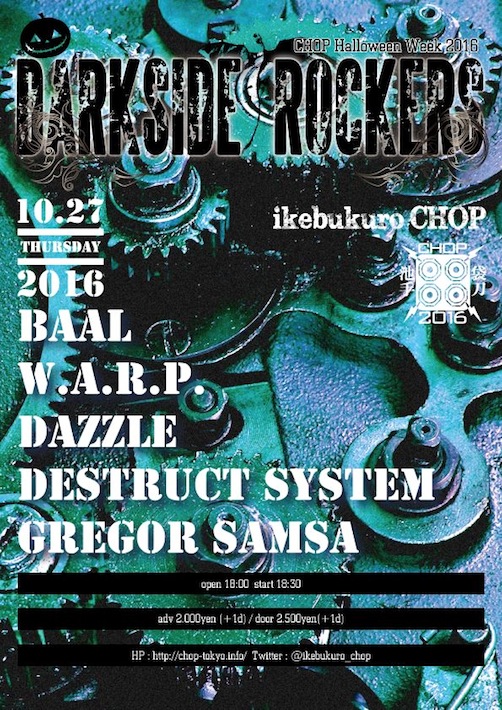 10/27(Thu)「DARKSIDE ROCKERS」@ Ikebukuro CHOP
bands:
BAAL
W.A.R.P.
DAZZLE
DESTRUCT SYSTEM
Open 18:00 / Start 18:30
Ticket : adv2.500yen(+1d) / door 2.800yen(+1d)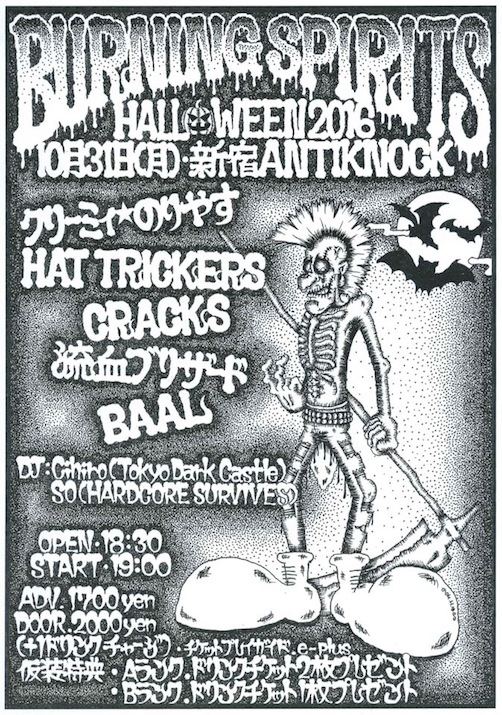 10/31(Mon)Burning Spirits Halloween @ Shinjuku Antiknock
【BURNING SPIRITS Halloween 2016 】
クリーミーのりやす
HAT TRICKERS
CRACKS
流血ブリザード
BAAL
DJ:Chihiro(TokyoDarkCastle) / SO(HARDCORE SURVIVES)
Open 18:30 / Strat 19:00
Ticket : ADV 1700yen / DOOR 2000yen
(+1ドリンクチャージ)
チケットプレイガイド:e-plus  9/30発売
仮装してきた方にドリンクチケットのプレゼントがあります!!!
★仮装特典★
Aランク ドリンクチケット2枚プレゼント
Bランク ドリンクチケット1枚プレゼント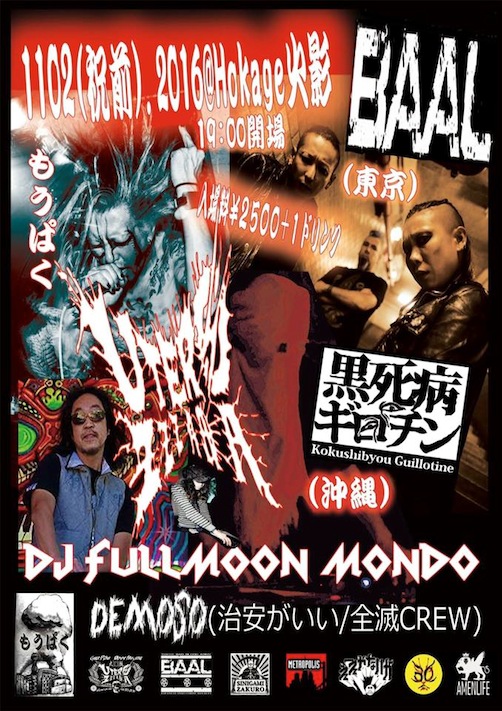 11/2 (Wed)"もうぱく" UTEROZZZAAA prezents @ Hokage / Osaka
bands:
UTEROZZZAAA
黒死病ギロチン(Okinawa)
BAAL(Tokyo)
DJ:
FULLMOON MONDO
DEMOSO(治安がいい/全滅CREW)
Open: 19:00
Ticket : /2.500yen(+1d)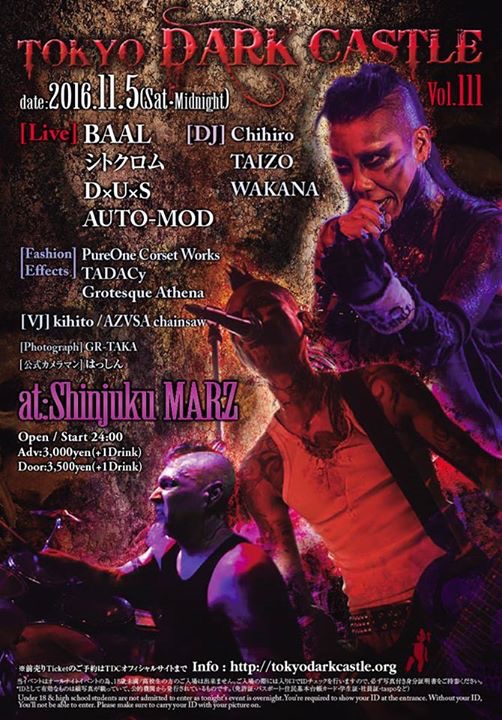 2016.11.05(Sat Midnight) at Shijuku MARZ
TOKYO DARK CASTLE Vol.111
* Open / Start 24:00
* Adv 3,000円(+1drink)
* Day 3,500円(+1drink)
《LIVE》
BAAL
シトクロム
D×U×S
AUTO-MOD
《DJ》
Chihiro
TAIZO
WAKANA
[Fashion Effects]
PureOne Corset Works / TADACy / Grotesque Athena
[Photograph]
GR-TAKA
[公式カメラマン]
はっしん
各公演のチケットの御予約を承っております。
公演日、お名前、ご予約枚数を記入のうえ、送信ください。
PASSED GIG
2016
30,Jan Tokyo Dark Castle vol.104 @ MARZ Shinjuku
11.Jan DARK SIDE ROCKERS -DATA GROOVE  SPECIAL- @Chop Ikebukuro
2015
05. Dec TOKYO DARK CASTLE vol.103 @MARZ Shinjuku
13. Nov FRIDAY THE 13th – 金網GIG @Chop Ikebukuro
31. Oct Burning Spirits Halloween Party 2015@Antiknock Shinjuku
24. Oct"BONDAGE,UP YOURS!! Vol.5″ @20000Volt  Higashi kouenji
12. Sep  時の葬列〜方舟の章 Vol.4 @MARZ Shinjuku
03. July TOKYO HARDCORE TATTOO 十三周年記念パーティーLIVE @Missions Koenji
16. May WEIRD TV- TOUR FINAL-Le Baroque Cirque -in Tokyo @CHOP Ikebukuro
04.May 世界妄想博覧会@Sengoku Daiyouryou Midoribashi Osaka
25.Apr PANDORA'S BOX vol.6@ANTIKNOCK Shinjuku
13. Mar FRIDAY THE 13th – DEMONOID13 los tres almas del inferno release Special -」@CHOP Ikebukuro
07.Mar Tokyo Dark Castle Vol.98@MARZ Shinjuku
2014
29.Dec "PSYCHOHOLIC REVOLT 2014- 15 YEARS OF CRACKS -"@LOFT Shinjuku
06.Dec Tokyo Dark Castle vol.96 @MARZ Shinjuku
31.Oct Burning Spirists Halloween Party 2014@Antiknock Shinjuku
25.Oct DEMONOID 13 Presents MURDER SHACK CIRCUS exra vol.2~Tragic Halloween Night~
@  live & bar Red Dragon (Nagoya)
29. Sep  TOKYO DARK CASTLE vol.94 @ 新宿MARZ 
07. June UTEROZZZAAA&444CAPSULE presents!!!!
"BAAL/ DEMONOID13 Double Release Party in Osaka"@ 緑橋戦国大統領
04.May DIGRAPHIA presents "PANDRA'S BOX" vol.5 @Antiknock Shinjuku
Opening Act for SKINNY PUPPY "SHAPES FOR ARMS"  US Tour
05. Mar  @MAYAN THEATRE  Los Angeles
04. Mar  @FILLMORE  San Francisco
02. Mar  @WONDER BALLROOM  Portland
01. Mar. @SHOWBOX  Seattle
2013
23. Nov URBAN GREED GIG@ RED DRAGON Nagoya
09. Nov WIRED TV -EKTPLAZM- Episode 3@ CHOP Ikebukuro
 31. Oct BURNING SPIRITS HALLOWEEN @Antiknock Shijuku
26. Oct  Tokyo Dark Castle presents "Great Rock'n'Roll Halloween"@MARZ Shinjuku
21.  July CEvin key presents Japanese Cyberpunk Invades LA ! @COMPLEX L.A
18. July  CEvin key presents Japanese Cyberpunk Invades LA !@GOODHURT Venice
03. May KING OF TATTOO LIVE 2013 @EARTHDOM Shin-Ohkubo
16. Mar. DEMONOID13 presents "MURDER SHACK CIRCUS Vol.3″ @TIGHTROPE Sakae Nagoya
19. Jan. BIKER NIGHT "SCRAMBLE BASH Vol.8 & PATCH PARTY"!@club SARU Kanayama Nagoya
2012
02. Dec. DIGRAPHIA presents"PANDRA'S BOX" vol.2 @20000V higashi Kouenji
10. Nov. DARK SIDE ROCKERS @Chop Ikebukuro
31. Oct. BURNING SPIRITS Halloween party 2012 @ANTIKNOCK Shinjuku
27. Oct Tokyo Dark Castle vol.87 @MARZ Shinjuju
16. Sep UTEROZZZAAA Presents 世界妄想博覧会 @Hokage Osaka
13. July FRIDAY the 13th @Chop Ikebukuro
07. July TOKYO DARK CASTLE vol.85 @MARZ Shinjuku
01. July KING OF TATTOO 夏 2012 @EARTHDOM Shin-okubo
03.June. Hyper Sonic Valetudo @EARTHDOM Shin-okubo
02.June. TOKYO DARK CASTLE vol.84@MARZ Shinjuku
26.May. DARK SIDE ROCKERS @Chop Ikebukuro
25.Mar. PUNK ADDICT! vol.61 @ ANTIKNOCK Shinjuku
02.Feb. Tokyo Dark Castle vol.82 @MARZ Shinjuku
13.Mar. DEMONS Presents "FRIDAY THE 13th"@Chop Ikebukuro  Report
2011
26.Nov. Ecstatic Metal Deader@Chop Ikebukuro  Report
31.Oct.  BURNING SPIRITS Halloween Special @ Antiknock Shinjuk,Tokyo Report
03.Sep. TOKYO DARK CASTLE Vol.78 @ MARZ Shinjuku,Tokyo  Report
22.July 東狂黒Presents 東狂不法集会Vol.3 @ Chelsea Hotel Shibuya,Tokyo  Report
02.July. TOKYO DARK CASTLE Vol.76 @ MARZ Shinjuku,Tokyo
07.May. TOKYO DARK CASTLE Vol.74 @ MARZ Shinjuku,Tokyo
2010
25. Dec. who the merry?-saint satanic chaotic- @KING COBRA OSAKA
12.Dec. Twist Fest.@Club Asia Shibuya Tokyo
31.Oct. BURNING SPIRITS Heeloween Special @Antiknock Shinjuku, Tokyo
10.Oct. BLUE tal YOKOHAMA Curated「BAYSIDE+GENOCIDE 2010」@Club Rizard Yokohama
16.May. Auto-Mod Presents "Great R&R Swindle"@Kameido HardCore, Tokyo
25.Apr. KING OF TATTOO LIVE 春 @ EARTHDOM Shinokubo, Tokyo
13.Mar. BAAL Organize event "KING OF EVIL 13″ Vol.2 @ Motion Shinjuku, Tokyo
06.Feb, TOKYO DARK CASTLE Vol.60 @ MARZ Shinjuku,Tokyo
2009
13.Nov, DEMONS presents "FRIDAY THE 13th" @ CHOP Ikebukuro,Tokyo
25.Oct. KING OF TATTOO LIVE 2009 秋 @ EARTHDOM Shinokubo,Tokyo
12.Sep. UTEROZZZAAA presents -激突- @ Hokage Shinsaibashi Osaka
05.Sep. TOKYO DARK CASTLE Vol. 56 @ MARZ Shinjuku
11.Jul. BAAL Organize event "KING OF EVIL 13″ -chapter 1 : Area 666- @ Motion Shinjuku,Tokyo
04.Jul. GRIND HOUSE Night vol.187 17th Anniversary Part. 2 @ Deseo Shibuya,Tokyo
02.May. TOKYO DARK CASTLE Vol.52 @ MARZ Shinjuku,Tokyo
07.Mar. TOKYO DARK CASTLE Vol.44 @ MARZ Shinjuku,Tokyo
2008
02.Nov. MIDNIGHT NECROPOLIS IN TOKYO @ MARZ Shinjuku,Tokyo
6.Sep. TOKYO DARK CASTLE Vol.44 @ MARZ Shinjuku,Tokyo
13.Jul. DEMONOID 13 Presents : TORTURE TECHNIQUE @ DAYTRIP Nagoya
Cyber Punk Baroque Ball: Angelspit Vs BAAL20.Jun. AU-Brisbane, The Globe (w/ANGELSPIT)


-

220 Brunswick Street, Fortitude Valley : I.D. is required for entry (18+)21.Jun. AU-Perth, Sin Club (w/ANGELSPIT)


-

45 Murray st Perth, cnr Irwin st : 10pm – late : I.D. is required for entry (18+)27.Jun. AU-Melbourne, Inflation (w/ANGELSPIT)


-

60 King St, Melbourne : I.D. is required for entry (18+)28.Jun. AU-Sydney, The Gaelic Club(w/ANGELSPIT)


-

64 Devonshire Street, Surry Hills : I.D. is required for entry (18+)
26.Apr. Sekai-Mousou-Hakuran-Kai Final @Shangri-LA Umeda Osaka
02.Feb. TOKYO DARK CASTLE Vol.36 @MARZ Shinjuku,Tokyo
2007
31.Oct. TOKYO DARK CASTLE Vol.34 Halloween Special @BOXX Shibuya , Tokyo
23.Sep. GRAVE DIGGER @MARS Shinjuku , Tokyo
09.Sep. Sekai-Mousou-Hakuran-Kai No.4 @Shangri-LA Umeda Osaka
19.May. RockGuildxMASTER TUNExMARZ presents-KINGGUIDRA @MARS Shinjuku , Tokyo
05.May. TOKYO DARKCASTLE Vol.29 @MARZ Shinjuku , Tokyo
18.Mar. BAAL Germany Tour 2007 @Underground / Koln ,Germany
17.Mar. BAAL Germany Tour 2007 @Talschock / Chemnitz ,Germany
16.Mar. BAAL Germany Tour 2007 @K17/ Berlin,Germany
11.Mar. Sekai-Mousou-Hakuran-Kai No.3 @Shangri-LA Umeda Osaka
03.Mar. TOKYO DARKCASTLE Vol.27 @MARZ Shinjuku , Tokyo
06.Jan. TOKYO DARK CASTLE Vol.25 -DJ CASTLE- @MARZ Shinjuku , Tokyo
2006
02.Dec. TOKYO DARK CASTLE vol.24 @MARZ Shinjuku , Tokyo
24.Nov. AnitaMatsuri No.4 @emSEVEN Shin-Koiwa , Tokyo
08.Nov.BAAL Germany Tour 2006 @Club Moments / Bremen ,Germany
07.Nov. BAAL Germany Tour 2006 @Triptychon / Munster ,Germany
05.Nov. BAAL Germany Tour 2006 @ K17 / Berlin ,Germany
04.Nov. BAAL Germany Tour 2006 @Tivoli / Utrecht,Neitherland
03.Nov. BAAL Germany Tour 2006 @ AccessAllArea / Koln ,Germany
28.Oct. TOKYO DARK CASTLE vol.23″ -Halloween Special- @MARZ Shinjuku , Tokyo
01.Oct. VENGEANCE for BLOOD GAI-DEN 4 @Cyber Ikebukuro , Tokyo
17.Sep. SEXY DYNA NIGHT Vol.3 @LAFORET MUSEUM Harajuku, Tokyo
02.Sep. TOKYO DARK CASTLE Vol.22 @MARZ Shinjuku, Tokyo
14.Jul VILLINGEN" vol.2 -INDUSTRIAL HEAVY SOUND DISTRICT- @club VIJON Osaka
01.Jul. TOKYO DARK CASTLE Vol.21 @MARZ Shinjuku
03.Jun. TOKYO DARK CASTLE Vol.20 @MARZ Shinjuku, Tokyo
06.May. TOKYO DARK CASTLE Vol.19 @ MARZ Shinjuku, Tokyo
21.Jan. JUNK BAPTISM#1 @ Shinjuku URGA , Tokyo
2005
24.Dec. TOKYO DARK CASTLE vol.15-Devil's Xmas- @ Deseo Shibuya , Tokyo
29.Oct. TOKYO DARK CASTLE vol.14 -Halloween Special- @ Deseo Shibuya, Tokyo
24.Sep. JUNK CHILDREN #1″ @ MARZ Shinjuku , Tokyo